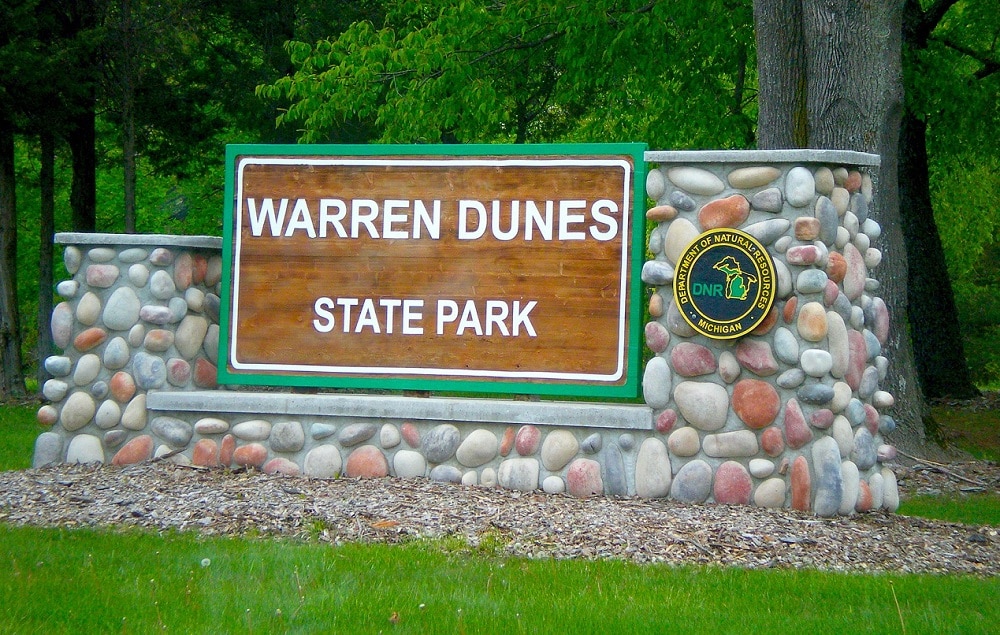 The 1952 acre park has three miles Lake Michigan shoreline, six miles of hiking trails. You can find some of the tallest dune formations along West Michigan's coast of 260 feet, which offer great views of the surrounding area.
About
Location:
12032 Red Arrow Highway
Sawyer, MI 49125
Hours of operation
April-September: 8 AM – 10 PM, October-March 8 AM – Dusk.
Are dogs allowed?
Dogs are permitted north of the third beach parking lot. Dogs must be leashed at all times, leashes cannot be longer than 6 feet. Dogs cannot be left unattended or left in cars alone. You must clean up after your dog.
Is alcohol permitted?
Alcoholic beverages are not allowed in the park from March 1 – Sept. 30
What to do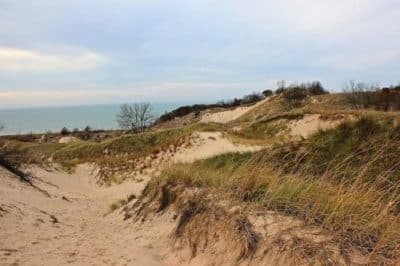 There are quite a few popular activities available at Warren Dunes State Park. These include:
Hiking
Camping
Swimming
Beaches
Nature Programs
Cross Country Skiing
Hunting
Hang Gliding
Metal Detecting
Popular Hiking Trails
There are over 6 miles of hiking trails located in Warren Dunes State Park. You can create chart your own path using a park map, or follow one of the more popular trails systems located in the park. There are many established trails which can be found on the Michigan DNR website, but most are variations of either the Warren Dunes Trail or the Warren Dunes Beach Trail:
Warren Dunes Trail
Distance: 5.1 miles
Elevation Gain: 275 feet
Route Type: Loop
This is a beautiful trail offering plenty of options for side detours and exploration. The trail follows about a mile of the coast and gives you a full offering of the ecosystems found at Warren Dunes, including the Great Warren Dunes Natural Area. Along the route, you will find dune formations, wooded sections, an old lighthouse, and the ruins of the old First Church Camp. The trail can be challenging at times as much of the hike involves elevation change over loose sand, or parts of the trail may be flooded after a rain.
Warren Dunes Beach Trail
Distance: 3.6 miles
Elevation Gain: 196 feet
Route Type: Loop
If you've come to see the beach, this is a great trail to consider. The start of the hike takes you through forested sand dunes, which open up to the sandy beaches of Warren Dunes. This loop hike takes you almost entirely along the shoreline, with a brief inland trip into the dunes. With the constantly shifting dunes, you'll see different landscapes each time you come to visit. Come in the spring or summer to spot wildflowers along the route.
Other popular trail routes include:
Mt. Randal Trail – Distance: 4 miles
Blue Jay Trail – Distance: 0.8 mile
Cross Country Ski Trail – Distance: 6.0 miles
Golden Rod Loop – Distance: 0.4 miles
Yellow Birch Loop – Distance: 1.0 mile
Red Squirrel Trail – 0.7 mile
White Tail Trail – 0.8 mile
Oak Ridge Trail – 0.2 mile
Camping
Camping is available at three locations in the park:
Warren Dunes Modern
Warren Dunes Semi-Modern
Warren Dunes Youth Group Use Area
Rates vary for each of the locations but generally range from $25 – $52 per night. Reservations can be made up to 6 months in advance by calling 1-800-447-2757 or by visiting www.midnrreservations.com. Reservations can fill up quickly for popular weekends, so it's a good idea to make reservations as early as you can. Visit the Shoreline Visitors Guide website for the most up to date details on camping rates, rules and campsite information.
Cabin Rentals
Cabins are not available in Warren Dunes State Park, however there are many cabin rental providers within close proximity of the park. You can find cabins for rent by using sites like redarrowcabins.com, hometogo.com, glampinghub.com, vrbo.com, and airbnb.com
Image Credit:
????? from Kalamazoo, Michigan, United States
/
CC BY
---
Similar Posts
Comments
comments