School's almost back in session, which means college campuses will be crawling with youthful faces venturing out into the world for the first time. It always helps to have a bit of direction before you get lost in a sea of new surroundings, so here's a list of 10 things that incoming students should know before starting at Grand Valley.
1. This ain't no "small" school.
For some reason people not familiar with Grand Valley often assume it's a tiny school, which is entirely untrue. In 2016 enrollment is 25,325 students. To put that in perspective, it's bigger than both Eastern Michigan and Western Michigan.
2. Grand Valley football games are awesome.
Unlike a lot of lower division college football programs, Grand Valley has a great stadium and a rabid following and averages around 12,000 fans per game at Lubbers Stadium. Not only are there lots of fans, but there's a great tailgating scene, a cool stadium and the team just happens to be the winningest in the history of Division II football.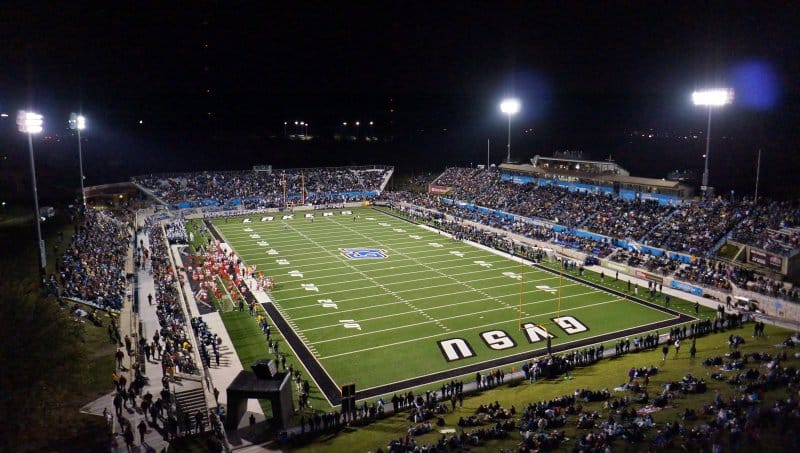 3. In fact, GV is incredible at sports in general.
The NACDA Directors Cup is an award given to the most outstanding overall sports program in each division of college sports, and Grand Valley has won this award 10 of the past 12 years, while finishing second twice.
4. The library is the best you'll find. Seriously.
Grand Rapids is the furniture capital of the world and local companies like Steelcase helped make the Mary Idema Pew Library an almost obscenely amazing learning space.
5. You have a nice golf course, try it.
The Meadows is a beautiful golf course that butts right up to campus and it gives great discounted rates to students. If you're into golf, this is a nice perk!
6. Choose your campus. Grand Valley has two full campuses.
Grand Valley has two full blown campuses, the original campus in Allendale (where freshmen will spend most of their time) and the downtown Grand Rapids campus which has expanded greatly in the past 20 years. Depending on the program you get into, you might be spending a lot of time at one or the other, so you might want to spend some time at each to get a feel for where you belong.
7. You can avoid the freshman 15.
Staying active is easy at Grand Valley because there are a TON of intramural and recreational activities available to you.
8. Appreciate your "new" surroundings.
Compared to most of the other Universities in Michigan (and around the country) Grand Valley's growth is relatively recent. With major donors in the area contributing large sums of money, Grand Valley has some of the newest and most technologically advanced facilities of any campus you're likely to set foot on.
9. You're getting a heckuva deal on tuition.
Grand Valley has been recognized regularly for their ability to provide a high quality education while managing to keep tuition costs reasonable. U.S. News regularly ranks GV among the top public schools and best value schools in their annual rankings.
10. It wasn't always a University.
For many years Grand Valley was known as Grand Valley State College. If you keep a close lookout during your years at Grand Valley you'll likely find some occasional references to the GVSC days.