Finally, after a very long, cold spring in which we were dealing with the COVID-19 crisis, summer is starting and travel restrictions across the state are starting to lift. For the women, men, and kids of the state, this is a great opportunity to finally get out and safely fish. Trout are one of the most revered and prized fish in the State of Michigan. The state offers miles and miles of trout streams to be explored, including several that are well managed by the Department of Natural Resources. June is arguably the best month for trout, as water temperatures are rising and bug activity picks up.
Licenses and Regulations
Before you go, be sure to check the regulations on the streams you plan on fishing. Streams in Michigan are classified into 5 types, each with different tackle and fish possession restrictions. The guide is available here at https://www.michigan.gov/documents/dnr/stream-regs_272062_7.pdf.
Tackle
Many trout purists only use the approach of fly fishing. However, there are other methods to fish these beautiful fish. This is good to keep in mind when trying to get kids into trout fishing, as fly fishing for younger anglers can be challenging. Using spinners are often a great approach to entice trout. Big brown trout may strike at even a flatfish or a body bait. Finally, small bits of live bait can work as well, such as nightcrawlers. Again, before you go, make sure you know what tackle is allowable on the river you are fishing.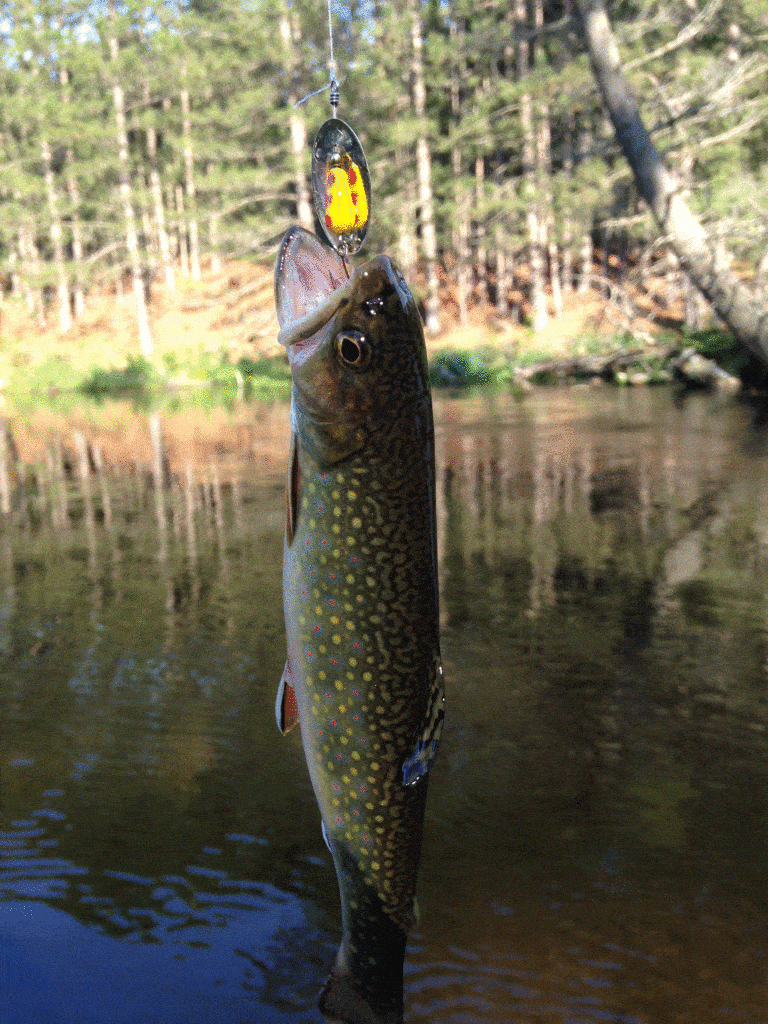 Michigan Streams
There are several well-known streams across the state. Each stream has its unique characteristics and points of river accessibility. A few streams are listed here, some are famous and some are lesser-known.
Pere Marquette
Many of the sections of the Pere Marquette are designated as Blue Ribbon trout streams. The PM flows through the Northwest part of the site, to Lake Michigan. The PM can present some wading challenges in June, but navigating deep holes from shore can present some huge brown trout.
Au Sable
Certainly, the most sought after trout stream in Michigan, June on the Au Sable means one thing: the legendary hex hatch. Anglers from all over the country descend on the "Holy Water" of the Au Sable east of Grayling for the hex hatch. Head out in the evening with a headlamp and your hex flies and listen for the fish rising. That time of year in Michigan, it stays light out until nearly 11:00 on a river, so you can navigate the water. The Au Sable does have some deep holes, but it is easily wadeable in most areas. Be sure to keep an eye on regulations as they will change from landing to landing.
Manistee
While this Blue Ribbon stream eventually drains in Lake Michigan in Manistee, some of its best trout fishing occurs up in the headwaters in the middle of the state. Many sections of the Manistee are fly and artificial bait only with strict possession limits, which create high levels of quality trout. In June, air temperatures rise which creates bug hatches, driving trout to the surface. The river is normally very wadeable, and has good structure with logs and tailouts. You can find brook around 10 inches, and rainbow and browns often between 15 and 20 inches.
Rifle
Often called the "PM of the East", the Rifle is often a forgotten about trout stream. Flowing near West Branch, Standish, Omer, and into Lake Huron, the Rifle can produce high-quality trout, especially in its upper reaches in June when river temps are still cooler for trout. While the rest of this area starts to turn their attention to the several lakes for bluegills on their beds, you may have the stream to yourself. There are several co-op run access sites along the river. Streamflow can be swift in some areas, so this is a combination of fishing from shore or wading.
Much has been written about the impressive trout streams in the state of Michigan. While the last weekend of April and then the opening of the season on most seasons gets a lot of attention, savvy anglers will tell you that June is when fishing really picks up. The weather is normally good, the days are long and the hatches lend themselves for great activity. Take a kid fishing and get ready for some relaxing fun!
Comments
comments