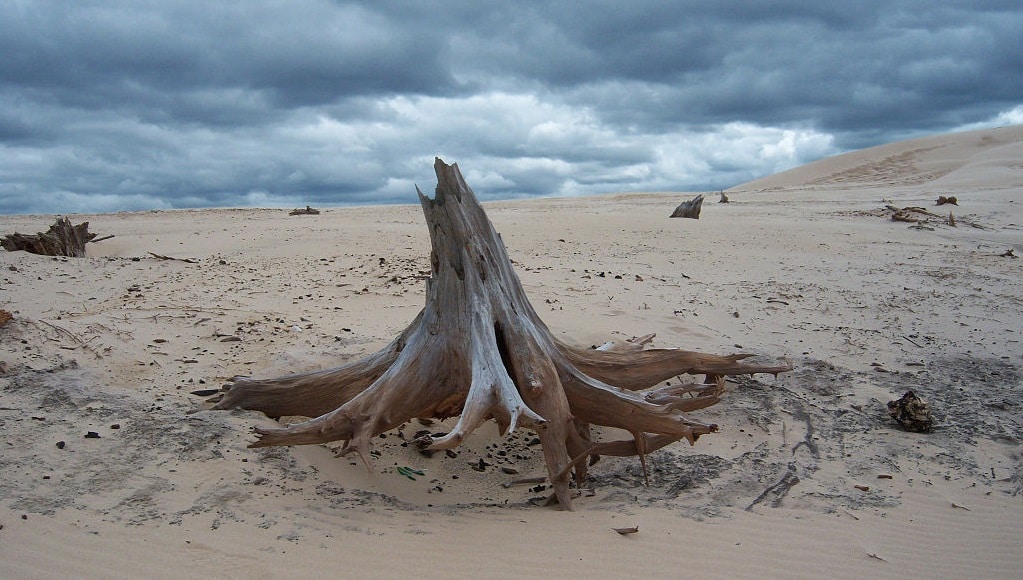 Michigan's Silver Lake Sand Dunes are one of the most visited attractions in the state of Michigan. Popular for hikers, motorsport enthusiasts, campers, and boaters, Silver Lake Sand Dunes provides a wide range of activities for everyone.
Fast Facts
The dunes are primarily stabilized by marram grass, more commonly known as "dune grass".
The Silver Lake Sand Dunes consist of about 2,936 acres of which 1,875 acres are public land.
The Park is spread across an area approximately 3 miles long and 1.5 miles wide.
The sand deposits on the dunes are one of the largest deposits of living dunes in all of Michigan.
The Dunes are home to a wide range of ecosystems and wildlife, including raccoons, deer, foxes, porcupine, blue heron, and white owl.
These are the only sand dunes east of the Mississippi that are open to ORV use.
History
Although much of the landscape surrounding Michigan and the Great Lakes were formed during the last ice age, which ended about 10,000 years ago, it's believed that the Silver Lake Sand Dunes formed about 5,000 years ago, making them geologically quite young. It's also believed that the landscape of the dunes has changed considerably since they were originally formed, and especially ever since humans started exploring the Dunes. For more information on how the geological history of the dunes, refer to this article.
With the invention of the automobile and an increase in train use via the Mears train station, tourism to the dunes quickly increased in the 1920's, particularly from Chicago. Vacationers would typically stay throughout the entire summer, and would settle around Silver Lake.
The area officially became a state park in 1920 when 25 acres were donated by Carrie E. Mears. Leading up to 1951, new lands were donated and transferred to the custody of the Park.
Map
The following are free maps of Silver Lake Sand Dunes park at the time of this writing. For the most up to date map, be sure to grab a map upon arrival at the dunes.
Little Sable Point Lighthouse
Located near the southwest corner of Silver Lake State Park is the Little Sable Point Lighthouse. Built in 1874, the lighthouse is 107 feet – making it one of the tallest in Michigan. Between late May and late September, you can schedule a tour of the lighthouse and climb all 130 steps to reach the top. There is a $5 donation fee, which helps cover the maintenance of the lighthouse and the park.
Campgrounds
There are several camping options in and around Silver Lake, all with different levels of pricing and accommodations. Many of these campgrounds fill up well in advance for popular weekends, so it's best to book early or explore other areas and options.
Reservations for the Silver Lake State Park campground should be made through midnrreservations.com, which include other state park campgrounds in the area. Some other commercial campground and lodging options within a short drive of the Dunes include:
Cabin Rentals
You can find cabin rentals on large sites like airbnb.com, vrbo.com, hometogo.com, and holidayhomes.com. There are also smaller privately owned businesses that manage one or more properties across the area, which are well worth checking out:
Cottages on Silver Lake – (616) 550-3131
When booking, be sure to understand each location's cancellation policy, animal restrictions, and additional amenities like beach access, hot tubs, fire pits, etc.
Hotels
There are multiple hotels, motels, and lodging options available within a short drive of Silver Lake Sand Dunes. The following are several of the best options available:
American Host Inn
4143 Polk Rd., Hart, MI 49420 | (231) 873-1855
Dunes Express Inn & Suites
2248 N. Comfort Dr., Hart, MI 49420 | (231) 873-3456
Dunes Waterfront Resort
1180 N. Shore Dr., Silver Lake, MI 49436 | (231) 873-5500
Gateway Motel
3781 N. Oceana Dr., Hart, MI 49420 | (231) 873-2125
Sierra Sands Family Lodge
7990 W. Hazel Rd., Silver Lake, MI 49436 | (231) 873-1008
Silver Sands Resort
8446 W. Hazel Rd., Mears, MI 49436 | (231) 873-3769
Park Entrance Cost
Every vehicle entering the Park is required to have a Michigan State Park Motor Vehicle Permit displayed on their windshield, known as a Recreation Passport. This can be purchased in advance at Michigan.gov. The current price for standard vehicles is $12 when purchased online. If you purchase this pass at a state park there is an additional $5 convenience fee, bringing the total to $17.
Anyone interested in using their vehicle for driving on the dunes will need to purchase a trail and scramble permit in addition to the Recreation Passport, which is currently $10.
Park Rules
The following are important rules that must be followed when visiting Silver Lake Sand Dunes State Park. First and foremost, refer to guidance from Silver Lake Sand Dunes State Park on park rules. Here is a quick breakdown of important details to know in advance:
The Off-Road Vehicle Area is only open between the dates of April 1 – October 31.
Vehicles must display necessary passes and permits.
Orange safety flags at least 10 feet tall required on all ORVs.
No alcoholic beverages are allowed in and around the ORV Area.
Only operate vehicles within orange boundary markers.
Helmets are required to operate ATVs and motorcycles.
Working lights (headlights, taillights, brake lights) are required on all vehicles if operating a half-hour after sunset.
Follow all park rules, safety rules, and driving instructions provided by Silver Lake Sand Dunes.
Park Hours
The park hours are as follows:
April 1 – May 15: 9:00 AM – 8:00 PM
May 16 – Labor Day: 9:00 AM – 10:00 PM
Day After Labor Day – October 31: 9:00 AM – 8:00 PM
ATV and Buggy Rental Options
ATV-ing the Silver Lake Sand Dunes may be the top activity in the area. You can bring your own ATV to the park, or there are several services that provide UTV and ATV rentals as well as guided tours.
It is also possible to find other rental options in the area depending on the type of activity that you are interested in. These include jeep rentals, jet ski rentals, kayak rentals, and snowmobile rentals. If you are preparing your ATV, UTV, or motorcycle for the dunes, you can use Parts Pit Stop, a local Michigan vendor, to get the OEM parts that you need.
Did you know that you can bring your own vehicle to Silver Lake Sand Dunes? Follow these three simple steps:
Head to the ORV Welcome Center to receive the information needed and get a recreational pass if you don't have one already as well as ORV permits. Be sure to grab a map, which will be helpful while driving around the dunes.
Attach the ORV flag to your vehicle, which must be 10 feet off the ground.
Deflate your tires – they must be deflated to a maximum of 15 PSI. For best performance, aim between 12 – 15 PSI. You can find centers in the park that allow you to deflate and re-inflate your tires later on.
Other tips:
Be sure to use the restroom before heading out – no porta-potties out on the dunes!
Attach a GoPro or similar camera to your vehicle for some awesome videos.
The tire centers can get a little busy, so consider bringing a cordless tire inflator/deflator, which can be well worth the time or money on busy summer days.
Arrive early in the day to beat the crowds and sun.
Hiking
There are several popular hiking routes within the area. Below are several popular hiking options within the area, however many people tend to grab a map and chart their own course. Check each individual route for further information on parking, dog friendly options, and more.
Fireworks
"Thunder Over the Dunes" is the 4th of July firework show for Silver Lake Sand Dunes. The beach can get a little crowded, so try to show up early to reserve a good spot. There are other firework shows in neighboring areas if you can't make this one. Dates change year to year, so double check information to get the right date and time.
Ludington
Manistee
Hamlin Lake
Pentwater
Hart
Checking the weather
Aside from popular online weather websites and apps like weather.com, you can refer to local weather stations of Grand Rapids or Traverse City. Milwaukee, Sheboygan, and Green Bay all have in-depth weather with video forecasts.
Image Credit
Image by Bonnie Henderson from Pixabay
Comments
comments