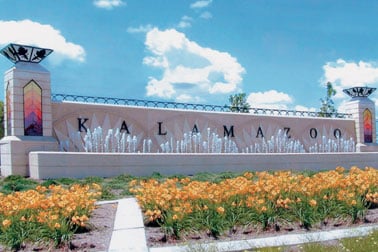 I grew up in downtown Kalamazoo, and I can say first hand that downtown Kalamazoo has dramatically improved over the past decade and now has the potential to become the top city destination for tourism in all of Michigan. Much of that has to do with constant demand for better beer and Kalamazoo doing a great job of providing a great selection of craft breweries.
Grand Rapids may have the title of Beer City USA, but Kalamazoo quietly has a number of great locations to find great craft brews. If you're a fan of a good quality brew, there are several spots in Kalamazoo to check out. Most are within walking distance of one another but there are tour companies that can guide you, which would make a lot of sense if you have a big enough group.
Bell's Brewery
Bell's is one of the largest craft breweries in the country, and food good reason. Their well known Two Hearted Ale and  Oberon have made them famous, but there are plenty of other specialty beers that they pretty much only serve on site. If you're lucky, you might be able to catch their limited time beers like their high demand Hopslam or their limited quantity Mango Habanero Oberon.
Come in grab some food and a flight of beer. You can check ahead of time to see when they'll have live music if you're also into that.
Kalamazoo Beer Exchange
One of the most unique bars you will ever visit – the Kalamazoo Beer Exchange is a must stop place for anyone who likes beer that is in the area. The prices of each beer on tap fluctuate based on demand, so if 10 people order Bells Two Hearted in the last hour, the price goes up, but if no one orders Dark Horse Crooked Tree IPA then the price will likely go down. You can view what they have on tap and the current prices on giant projection screens around the bar. If you're lucky, the market will occasionally "crash" where you have a short opportunity to get your favorite brew at a bargain deal price. Oh, also they have some of the best selections of craft beer on tap in the Kalamazoo area.
Boatyard Brewing Company
A lesser known spot that has a great selection of craft beers. They don't offer food but they have popcorn you can snack on or you can bring in your own food. A great atmosphere where you can chat with employees and learn hands on about the beer making process from the people that know it best.
Alamo Movie Theatre
Tired of moving around to different spots to find good beer? Why not catch a movie at the Alamo Movie Theatre where you can sit down, watch a movie, and drink more beer. Staff will take your food and drink order at the start of the movie and give you the bill at the end.
Tiffany's Wine & Spirits
Before leaving town, you should stop by Tiffany's Wine and Spirits to stock up on great Michigan craft beer. By far, Tiffany's has the best selection of wine from around the world in the Kalamazoo area, and they also stock a great selection of craft beers and imported beers.
There are a ton of other breweries worth visiting if you've got the time. IT's best to check to see which ones are in your area. In no particular order here are a number of breweries in the Kalamazoo area:
Arcadia Brewing
Gonzo's BiggDog Brewing
Olde Peninsula Brewpub
Rupert's Brew House
Tibbs Brewing Co.
Brite Eyes Brewing
Latitude 42 Brewing Co.
One Well Brewing
Texas Corners Brewery
Bilbo's Pizza
Bravo! Restaurant & Café
Walldorff Brew Pub
Territorial Brewing Company
Paw Paw Brewing
Final Gravity Brewing Co.
Old Mill Brewpub & Grill
Millgrove Brewing Co.
Dark Horse Brewing Co.
Constantine Brewing Co.
---
Similar Posts
Comments
comments