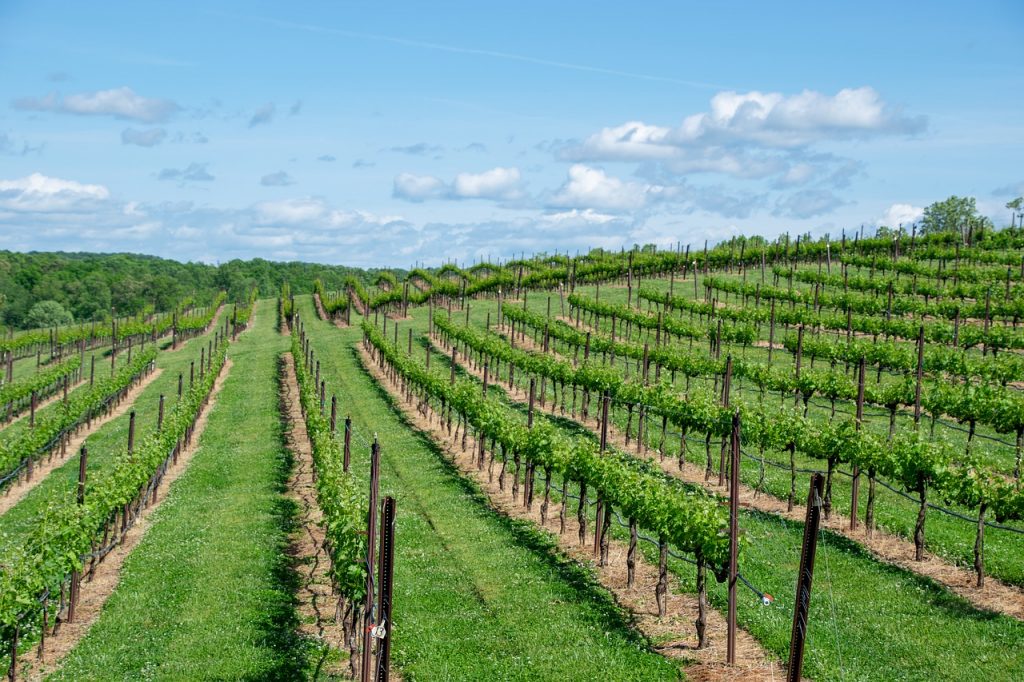 Southwest Michigan is quickly becoming well known for producing some of the best wines found in the Eastern United States. Below you can find an alphabetical list of some of the most popular wineries located in Southwest Michigan. You can also use the map to locate wineries near you:
Whether you're planning a weekend getaway, a bachelorette party, or you're just looking to sample some great wine, we'd recommend making a stop at each of these locations.
Cogdal Vineyards
7143 107th Ave, South Haven, MI 49090 | Website
Cogdal offers a wide selection of innovative wines, so it's easy for everyone to find something that they like. The winery is family-owned and has been passed down through multiple generations. Crackers are available, but a food truck can often be found in their parking lot on busy weekend days. Stop by and enjoy some excellent wine on their gorgeous patio!
Dablon Vineyards
111 W Shawnee Rd, Baroda, MI 49101 | Website
Located in the heart of wine country in Southwest Michigan, Dablon Vineyards is a must-stop. With the unique soil conditions and the protective climate from Lake Michigan, Dablon has been able to produce unique and award winning wines. Stop by their wine tasting room that has views of their rolling vineyards on their porch as well as a cozy fireplace indoors.
Fenn Valley Vineyards
6130 122nd Ave, Fennville, MI 49408 | Website
Fenn Valley has some of the best wines and events in Southwest Michigan, making this winery a great place to spend a whole afternoon or evening. Their events include live music, cook-outs, cooking demonstrations, wine festivals, and even a 5K/10K race. Fenn Valley is also a great place to visit if you're interested in being taken on a wine tour to learn more about the wine production process – all while sampling delicious wine!
Henderson Castle
100 Monroe St, Kalamazoo, MI 49006 | Website
Located in Kalamazoo, Henderson Castle has recently completed a wine cave that is available to guests. Tastings are available by appointment, so you'll need to call in advance to schedule your visit. It's an experience well worth the effort, as you'll have access to the unique architecture of the building, and the beautiful patio and sky deck.
Hickory Creek Winery
750 Browntown Rd, Buchanan, MI 49107 | Website
Hickory Creek prides itself on small batch production of classic European-style wines and taking a quality over quantity approach. Their current wine lineup features a great selection of dry wines including many different whites, a rosé, a pinot noir, as well as a unique stainless steel red. Stop by their big red barn building and have a glass of wine in their relaxing outdoor area.
Lawton Ridge Winery
8456 Stadium Dr, Kalamazoo, MI 49009 | Website
One of the oldest wineries in Southwest Michigan, Lawton Ridge Winery has been in operation since 1974. Their tasting room is located off of Stadium drive West of Kalamazoo, which was opened in 2008. They make many fan-favorites including chardonnay, riesling, pinot grigio, rosé, traminette, Two-Handed Red, and cabernet franc and they have won many awards for their wines over the years.
Lazy Ballerina Winery
4209 Lake St, Bridgman, MI 49106 | Website
This winery also has a tasting room in downtown St. Joseph. Whichever location you choose, both are a short walk or drive from the beach, so take a visit and buy a bottle before heading out to watch the sunset. With a wine tasting you also get a free glass and a truffle.
Lemon Creek Winery
533 E Lemon Creek Rd, Berrien Springs, MI 49103 | Website
The Lemon family has owned the farm and property for over 160 years! Established in 1984, Lemon Creek's wines are bottled on site. Visit their website to stay up to date on upcoming events, which include live entertainment, festivals, reserved barrel tasting, and more.
McIntosh Wine Cellars
6431 107th Ave, South Haven, MI 49090 | Website
This South Haven apple orchard and winery produces a great selection of wines that they bottle on their property. They primarily produce fruit wines such as white cranberry, strawberry, and peach. A great place to stop by if you're driving through South Haven, or to spend time enjoying their beautiful property. Grab a spot on their porch or front lawn and enjoy some tasty cider or wine!
Moonrise Winery
7785 Hill Rd, Watervliet, MI 49098 | Website
Starting off as a wine enthusiast's hobby, Moonrise opened doors commercially in 2016 and has been producing some of the best wine in Southwest Michigan. Stop by and sample some of their excellent reds on their laid-back patio while surrounded by beautiful scenery. You may also be able to enjoy live music and food on the weekends.
St. Julian Winery
716 S Kalamazoo St, Paw Paw, MI 49079 | Website
St. Julian winery located in Paw Paw is Michigan's oldest continually operated winery. The winery was originally located in Windsor, Ontario but after the end of Prohibition they re-located to Southwest Michigan. As the largest winery in the area, St. Julian also has some of the widest range of wines available, which makes it a great place to stop if you're in a large group or a group with different preferences for wine.
Tabor Hill Winery & Restaurant
185 Mt Tabor Rd, Buchanan, MI 49107 | Website
If you're craving great wine and great food, Tabor Hill is a must stop while touring Southwest Michigan. If you're looking to take a break from wine tasting with a bit of exercise, there are 3.5 miles of trails on their property, which are open during normal business hours. The trails take you through quiet woods, open fields, and beautiful vineyards.
White Pine Winery Tasting Room
317 State St #1247, St Joseph, MI 49085 | Website
Located in downtown St. Joseph, the White Pine Winery Tasting Room is a great place to visit while in St. Joseph. Established in 2010, White Pine produces classic wines like pinot grigio, cabernet franc, and riesling – that all grow well in the area. They also produce a sparkling blanc de blanc, which is a fan favorite.
---
Similar Posts
Image Credit:
Comments
comments